Year after year at the Salon International d'la Haute Horlogerie, Cartier steals our hearts with its magnificent artistry. This year is no exception. The stunning Louis Cartier Rotonde XL watch with mother and baby panther cubs created in the ancient art of filigree on the dial is absolutely breathtaking.  Filigree is a technique of goldsmithing that uses gold or silver wires soldered together in order to create an openwork lace-like design with a desired motif.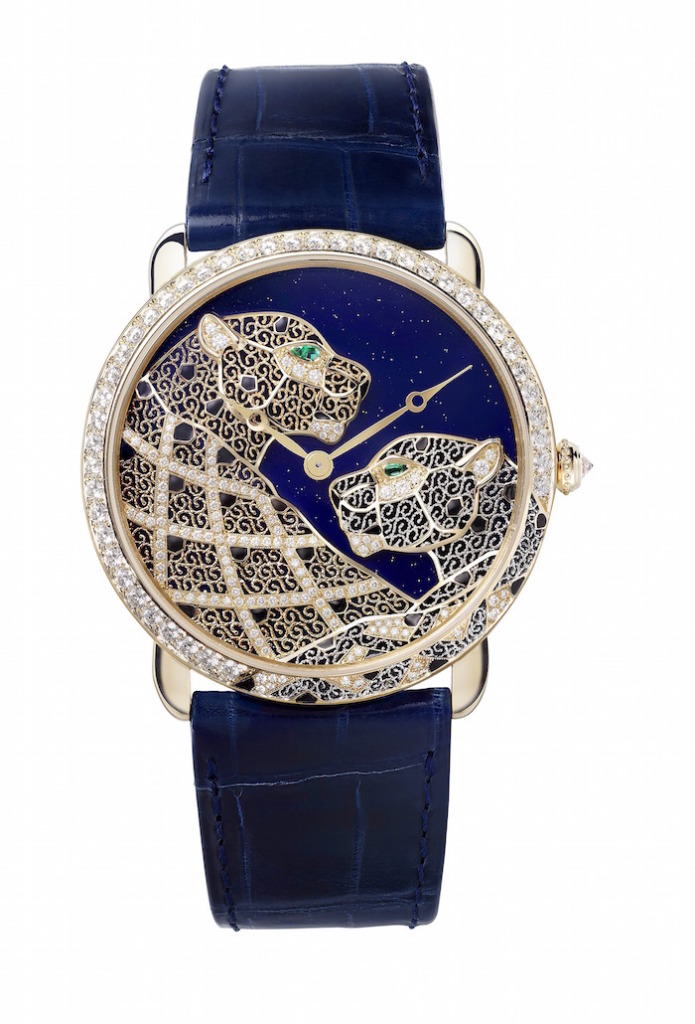 For Cartier, the challenges were multiple, but the brand naturally conquered. Among those constraints: adapting the design to the tiny dimensions of a watch case; utilizing not just gold, but also platinum and diamonds and working them into the overall motif.  To accomplish the outcome, Cartier's master craftsmen at the Maison des Métiers d'Art work with beaten gold and platinum micro-wires specially created on site. Twisted, rolled, curled and cut into little rings, these wires were assembled using the openwork filigree technique that allows the elements to be attached on the sides but not to the base.
Each watch takes more than a month of work to bring this creative lacework to fruition. The pair of panthers whose black-lacquer-spotted coats are literally woven from fine filigree elements of gold and platinum set with diamonds are incredibly realistic and alluring. The two panthers look at each other with their cut-to-measure emerald eyes. These delicate felines are set against a starry sky background.
This exceptional work of art brings together numerous crafts, from gemstone-setting to goldsmithing, from jewelry-making to watchmaking, from engraving to lacquering. The 42 mm watch is crafted in 18-karat yellow gold and houses the caliber 430 MC  mechanical movement with manual winding. The watch is created in a lLimited series of 20 numbered pieces