Since the beginning of recorded history, gold has been considered the ultimate symbol of wealth. As far back as 3600 BC, Egyptians depicted precious gold objects in their hieroglyphics, and the Mesopotamians were among the first to craft gold jewelry. As time progressed, gold became a unit of currency, an important element in art, and when forged into wedding bands, a symbol of love. The 17th century saw the creation of personal timepieces in the form of pocket watches, leading early watchmakers to utilize gold to satisfy affluent clients. The partnership between gold and timekeeping that began over 500 years ago continues to this day.
Seventy percent of the gold used for jewelry and fine watches is 18 karat. The karatage, indicated by a number followed by "k," refers to the proportion of pure gold in a piece of jewelry: 18k gold contains 75 percent; 24k gold, 99 percent. Since 24k gold is too soft and malleable to be crafted into the hull of a watchcase, other metals are mixed with it to strengthen it. When combined with the original ingot, these metals can also add new hues to the gold's color.
As watch trends have evolved, classic yellow gold, which once reigned supreme, has become less in demand, while 18k white gold and several hues of 18k pink, or rose, gold are now the most popular for timepieces. White gold is created by mixing metals like palladium and nickel with yellow gold. Adding copper to the mix creates pink, rose, and even red-gold hues. The more copper added, the richer and deeper the pink gold. Typically, the value of 3N and 4N is given to pink and rose gold, while 5N denotes a deeper, richer hue (some brands refer to their 5N pink gold as "red" gold).
Some watch brands create their own hues, such as green, orange, honey, brown, gray, and even purple by introducing various alloys to gold. Others not only add special metals to achieve a proprietary color, but also add other materials to slow down or stop gold from fading, or to help prevent it from scratching. To create certain unique shades, such as black, the color is achieved via an external coating process, such as electroplating, physical vapor deposit (PVD), or controlled oxidation. Though these specialized colors lack the broad market appeal of yellow, white, and pink gold, they add intriguing options for watch collectors looking for variety.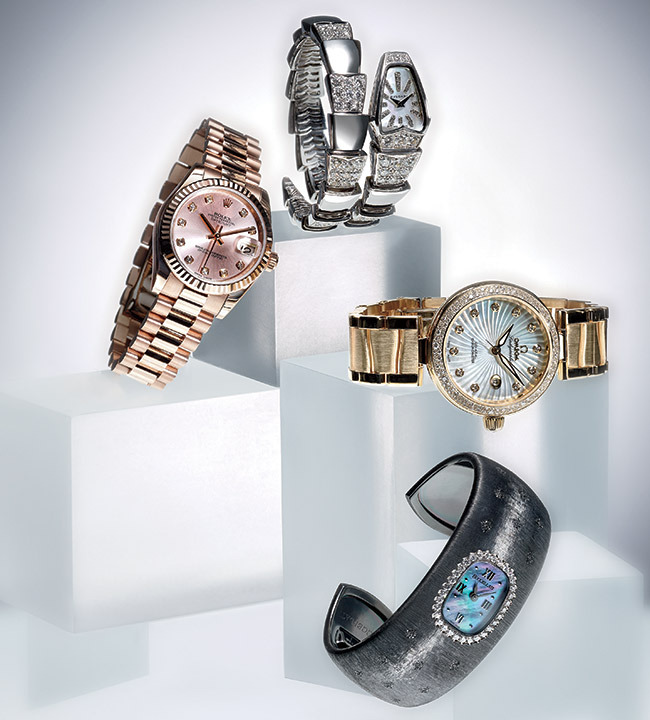 Seen here: Rolex  Oyster Perpetual Datejust ($31,300)  in the brand's proprietary 18k Everose gold, which exudes a dark rose hue that won't fade.  Bulgari Serpenti watch ($59,000) in 18k white gold; Omega Ladymatic Co-Axial watch ($38,500)  in 18k yellow gold; Buccellati Cleopatra cuff watch ($43,500)  in a proprietary 18k black gold. (photo by Jeff Crawford for Niche Media)