If someone asked you if you would wear jewelry or watches made of mosaic — you would most likely think of a kid's artsy/craftsy project. Think again. Italian-based Sicis has brought the art of mosaic to all new levels. As a tribute to fine historical craftsmanship, Sicis unveils its newest micro-mosaic  timepieces that bring one of the most ancient and elaborate jewelry techniques to the present day – in superb style.
It took 25 years of research on historical micro-mosaic workmanship to establish the perfect high-functioning workshop for the creation of these micro-mosaic pieces. Essentially, a micro-mosaic watch dial is like a jigsaw puzzle of thousands of individual microscopic tiles of gold, precious gems, and specially made Venetian enamel – all individually hand-set by a single master. Additionally, the enamel used is made in house  using nine different base colors that are melted at thousands of degrees of heat  to create infinite new hues that contribute to the bold and alluring color and depth of the micro-mosaics.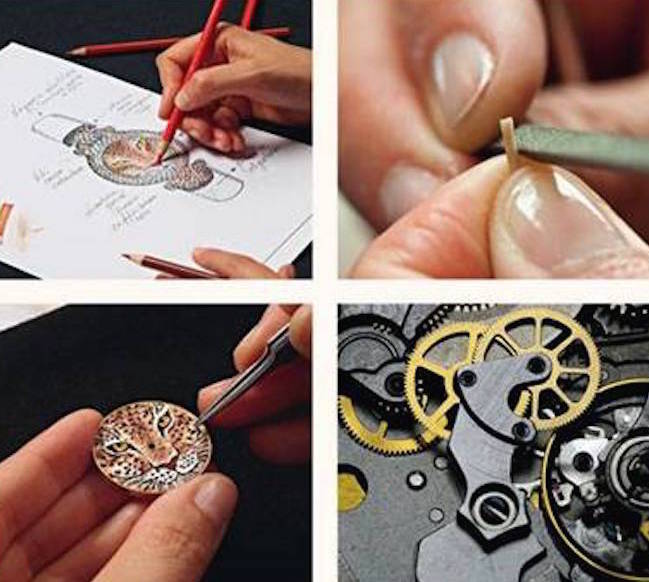 Creating a single dial takes dozens of hours, as each nano-tile in the watch is set individually — the mosaic masters following the design with their naked eye, creating a unique work of art every time. The master artisan uses microscopes and tiny tweezers — along with a lot of patience. Patterns ranging from butterflies and animals to flowers and abstract motifs are each meticulously fitted together into a brilliant masterpiece. SICIS's high-end contemporary collections of watches and jewels perfectly combine Italian creativity and knowledge with an unparalleled desire to experiment to yield the most intriguing watches on the market.