By Kimberly Charles
Shinola – a watch brand unveiled just a few years ago as a Made in America brand (the watches are built in Detroit) — has partnered with Oscar de la Renta, LLC (producer of American-made jewelry) to create hand-assembled timepieces for women under a collection called Lattice.
Inspired by Oscar de la Renta's jewelry collection, Lattice offers a signature appeal that is consistent with his highly decorative style. Reaching out from the case and over the sapphire crystal of each watch is a distinctive lattice-worked adornment made of the same color metal as the case. The latticework forms a protective – but delightfully decorative – grill. The aptly named Lattice watches are 36mm in diameter and house the Shinola Detroit-built Argonite 751 quartz movement. The collection comes in three breathtaking colors: ravishing red with a polished stainless steel case; captivating blue with a gold PVD plated case; classy black that comes with a polished stainless steel case covered in 68 VS, full-cut diamonds. Each watch is handmade in Shinola's Detroit factory with a personal touch, only 1000 of each watch version will be made and each is numbered 1-1000 for authenticity. The watches feature faceted sapphire crystals, white mother-of-pearl dials and signature mosaic crowns.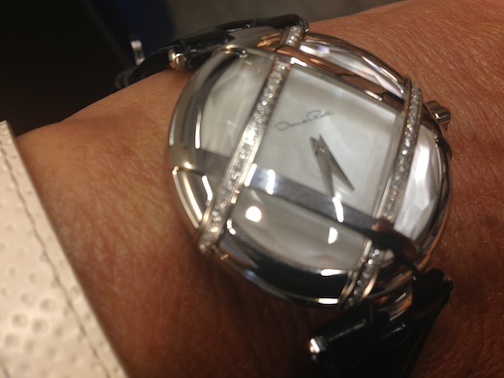 Each watch is sold with a beautiful book that offers an in-depth look at the life of Oscar de la Renta and his amazing works. To date, Oscar de la Renta continues to product shows, bags jewelry, clothing home décor and fragrance. This new collaboration with Shinola brings the brand back to the world of watches. This alluring collection will be out in October and available for sale at Oscar de la Renta boutiques and on line, and at Neiman Marcus. Prices will range from between $1,400 to $2,700.