Indeed, Audemars Piguet — top  luxury Swiss watchmaker — is well aware of its audience, and it would not have produced the more than $580,000 Diamond Punk if it wasn't. This brand – known for its daring spirit and adventurous soul —  recently unveiled the Diamond Punk watch. Great name, huh? Even better?  I got to wear it on my wrist. Well, just for a couple of minutes — but I must say it felt great.
It is more than 20 carats of swank gold and shimmering diamonds — all in a  Punk-era geometric design that screams audacious. There are two versions of this watch — one whose more than 5,000 diamonds share their space with onyx inserts (to tone down the glitter a bit??)  and one totally bedecked in Earth's most beautiful treasures.
While the case and bracelet could actually be used as weapons thanks to the 56  three- dimensional pyramids (and the weight), if one pushes aside the slide top, it reveals a diamond watch dial (yes, set with another 300 brilliants) that offer the time indication.
Of course, if you are a master gem-setter with Audemars Piguet, you may think the watch is a weapon — simply because these artisans must spend seven months (1,100+ hours) setting the stones.  Even the reverse side of the 18-karat gold wonder is meticulously carved and finished with a geometric punk design.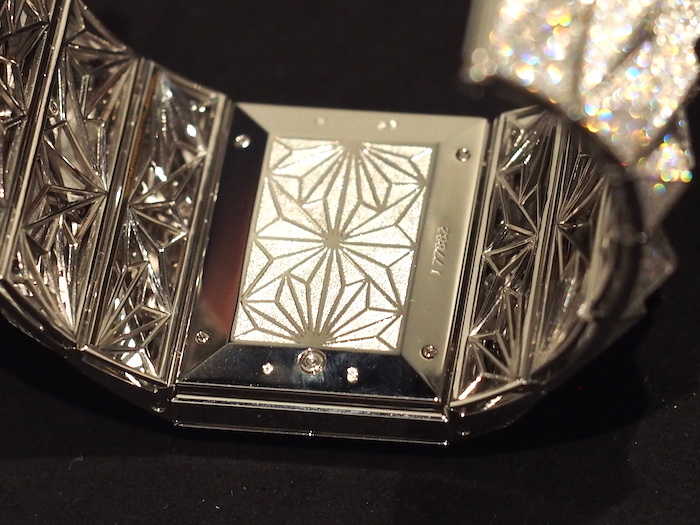 Now, mind you, I don't have the money to buy this watch, and if I did, I am not sure I would buy it … but … it sure felt and looked great on the wrist and if any woman were really a diamond glutton — this is the watch of choice because it is definitely not for the feint of heart.